Yanzhou Island
Concept Plan
The masterplan for the redevelopment of Yanzhou Island in Zhaoqing, in the Chinese province of Guandong, was born within the frame of a solid collaboration between the South China-Torino Collaboration Lab and the Zhaoqing New Area Administration. The Lab was involved both as a consultant and a research structure, in several urban projects developed by the city of Zhaoqing as – for instance – the historical city wall redevelopment. The core of the collaboration between the two institutions is to bring new elements of design quality and visions in the Chinese city making.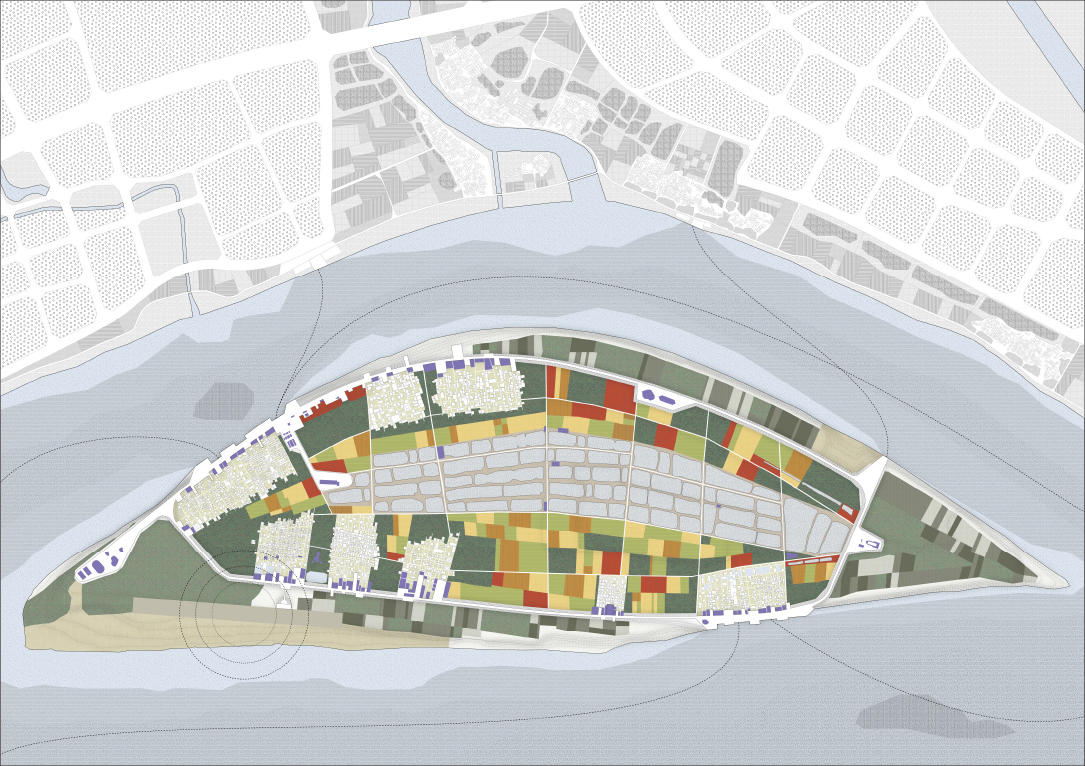 The concept plan developed by SCTCL's design team, instead of working on a tabula rasa, which is a common practice in China, takes advantage of some existing elements that can be found on the island: a great potential, thanks to the peculiarity of the landscape and to the strong social background of the place. They can make the Yanhzou Island a well-known model of environmental and social sustainability. Even weaknesses can become strengths through some specific and aware design interventions. The strategy has been focused on three macro systems of the island. They become the basic elements of the concept plan: the great loop of the levee, the villages and the agricultural system, the soft perimeter.The loop of the levee is an essential element in the island, providing repair and safety, but at the same time it is a barrier and a boundary. The project enhances its role, transforming it in a main infrastructure and a comfortable public space, able to connect the different villages and open areas. It will be liveable and walkable, surrounded by new buildings dedicated to commercial and leisure activities.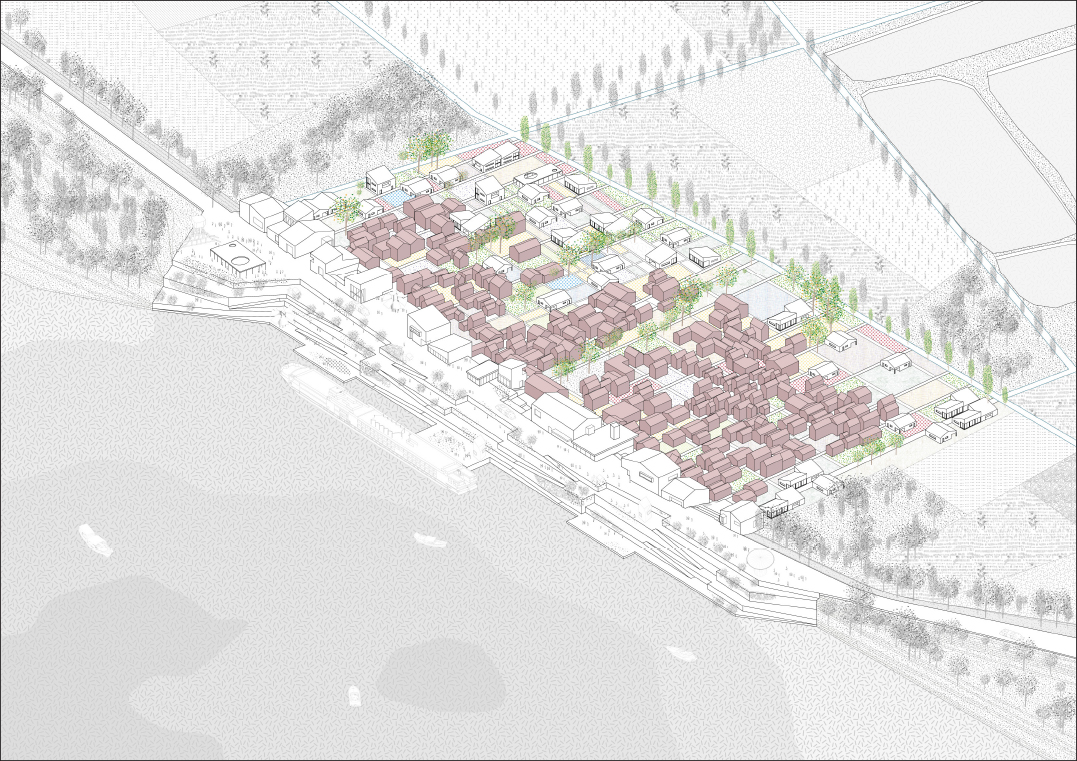 The villages are presently groups of mostly abandoned houses: they can be converted in flexible and mixed used spaces thanks to small interventions, following the model of some Italian and European regenerations of villages. The agricultural system can be preserved and transformed into a small "Agricultural Park", an attractive element for tourists, able to create new environmental values. A strong attention is paid to enhance the pre-existent vegetation and ecological system.
The soft perimeter is the part of the island out of the levee, that is periodically flooded. Nevertheless, also this part should be designed, in order to maximize its environmental and functional role. This outer border will harbour the physical connection between the island and the new urban district of Zhaoqing,through an efficient boat system running continuosly, it will host potentially also a fast connection with other cities, thanks to an helipad or an airfield. The vegetation will be carefully studied in order to be resilient to the floods and to regenerate the landscape.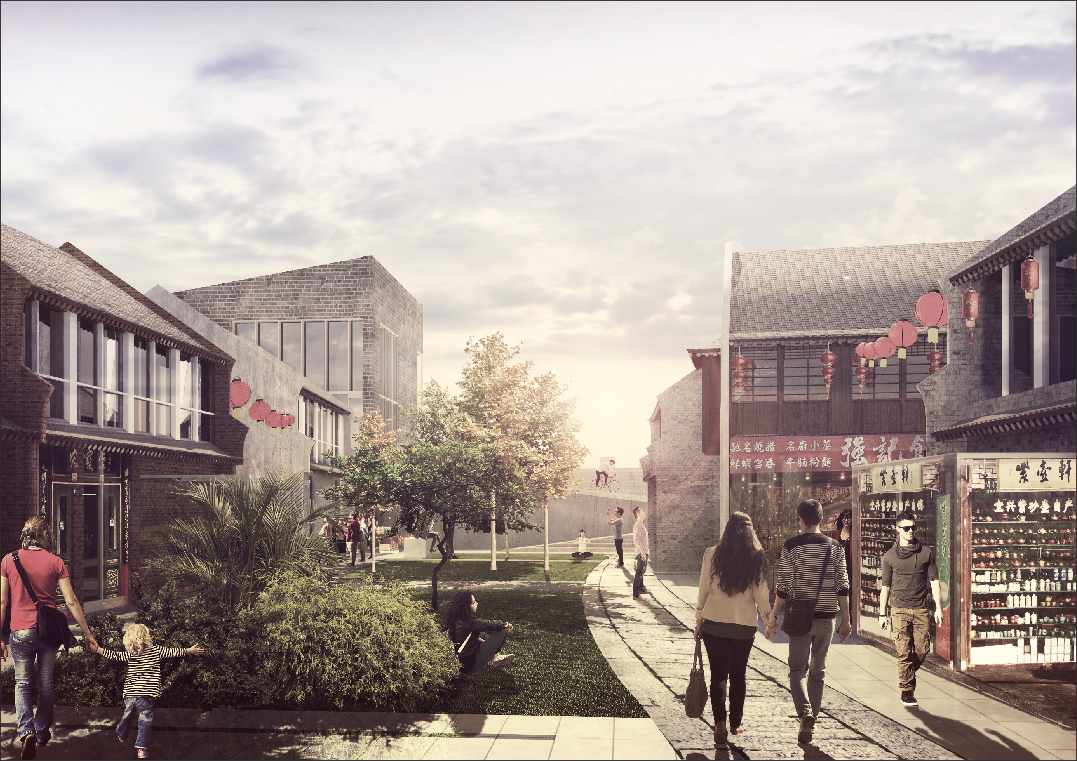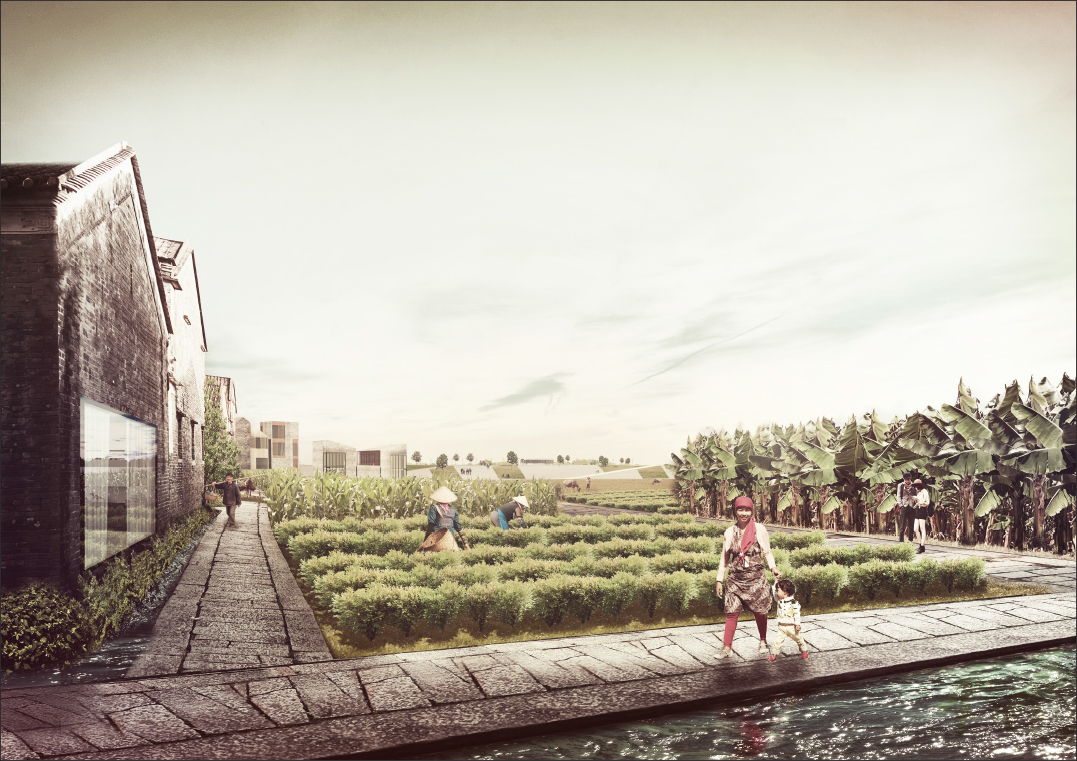 Client: Zhaoqing New Area Administration
Framework: The City after Chinese New Towns research initiative, supported by Politecnico di Torino and Fondazione Cassa di Risparmio di Torino
Project time: 2016 – 2017
Project Team:
– General Coordination: Michele Bonino, Francesca Governa, Angelo Sampieri
– Project Manager: Francesco Carota
– Designers: Leonardo Ramondetti, Astrid Safina
– Renders: Matteo Migliaccio
Advisors:
– Architectural Design: Mauro Berta
– Strategic Assesment and Economic Evaluation: Marta Bottero, Federico Dell'Anna
– Environmental strategy: Elena Comino
– Hydraulics: Maurizio Rosso
Collaborators:
Ina Sefjini, Wenwei Yu, Maria Paola Repellino, Edoardo Bruno, Duong Nguyen