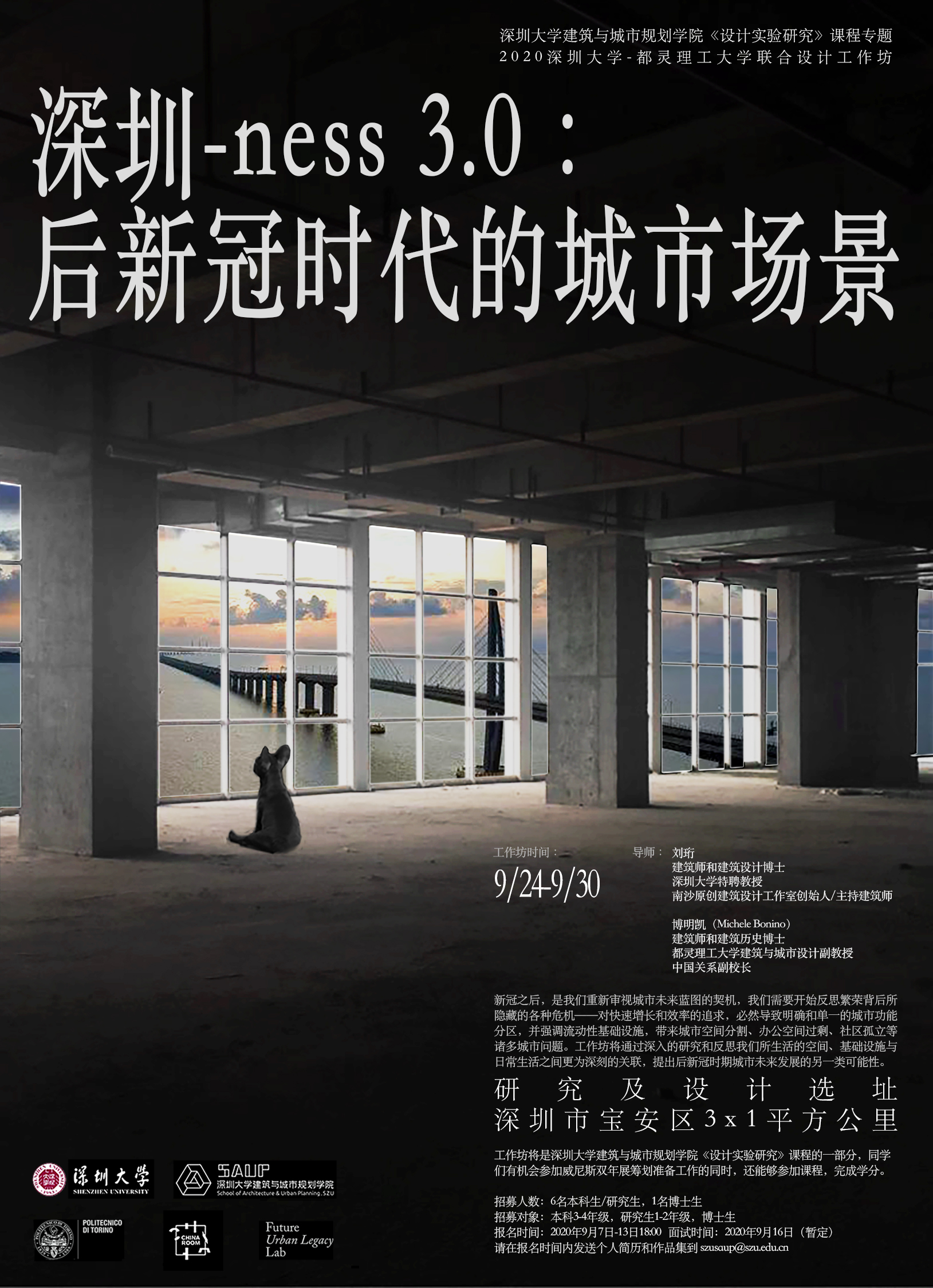 SHENZHEN-ness 3.0:
Post Covid-19 Urban Scenarios
International Joint Design Workshop
September 24th – October 9th, 2020
Doreen Heng Liu
Chair Professor – Shenzhen University
Founder and Principal – Node Architecture&Urbanism
Michele Bonino
Associate professor – China Room, Politecnico di Torino.
Director of the China Center
Francesca Governa
Professor – Future Urban Legacy Lab and China Room, Politecnico di Torino
Francesco Carota – China Room, Politecnico di Torino
Valeria Federighi – China Room, Politecnico di Torino
Monica Naso – China Room, Politecnico di Torino
Liu Si – Node Node Architecture&Urbanism
Silvia Lantieri
China Room, Politecnico di Torino.
2020 International Joint Design Workshop
SHENZHEN UNIVERSITY
POLITECNICO DI TORINO (China Room and FULL-Future Urban Legacy Lab)
The outbreak of COVID-19 in China and then other countries all over the world in January 2020 has become a public health emergency of international concern. The epidemic broke out at a time when the internet was undergoing rapid growth while the globalization represented by the free economy was facing challenges. The sudden global spread of the epidemic has changed the daily lives of hundreds of millions of people, forcing the individuals, families and cities into an abnormal state of isolation. Architecture and urban planning scholars of Shenzhen University and Politecnico di Torino, from China and Italy – the two countries that plunged into abnormality during the outbreak of the COVID-19, have selected Bao'an District of Shenzhen as a research test-bed: they will try to reflect on the deeper connection between our living spaces, the infrastructure and the daily life, and to propose another kind of urban scenarios for COVID-19 city.
The workshop will include design activities and lectures by:
Francesca Governa (Professor – China Room and Future Urban Legacy Lab, Politecnico di Torino)
Michele Bonino (Associate professor – China Room, Politecnico di Torino; Director of China Center)
Doreen Heng Liu (Chair Professor – Shenzhen University; Founder and Principal – Node Architecture & Urbanism)
Zhu Rongyuan (China Planning Institute)
Liu Yuyang (Hong Kong University)
Hendrik Tieben (Professor – Chinese University of Hong Kong)
Sarah Becchio and Paolo Borghino (Studio Errante Architetture)