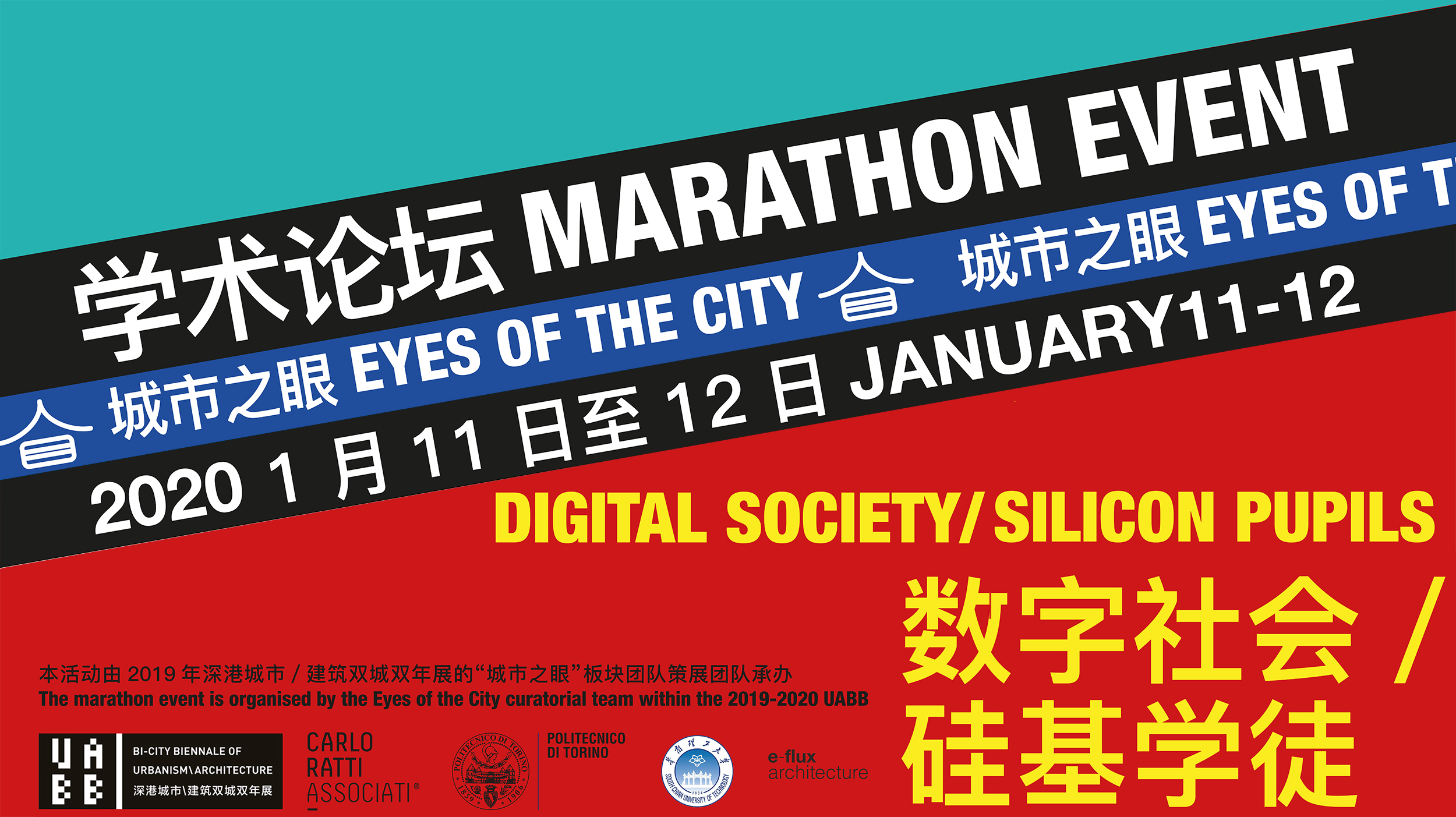 数字社会 和 硅基学徒 学术马拉松活动
SILICON PUPILS & DIGITAL SOCIETY MARATHON EVENT
2020年1月11日-1月12日
JANUARY 11-12, 2020
1月11日至12日的学术马拉松活动由卡洛·拉蒂工作室和华南-都灵联合实验室(华南理工大学和都灵理工大学)共同组织,话题围绕2019深圳城市\建筑双年展"城市之眼"版块的两个子版块:"数字社会"和"硅基学徒"。
The marathon event of January 11-12 is organised by Carlo Ratti Associati, Politecnico di Torino and SCUT within the Shenzhen UABB 2019, and it builds upon the two sections of the Eyes of the City exhibition dedicated to "Digital Society" and "Silicon Pupils".
新技术正在重新定义公民的概念。如何从这个角度解读"城市之眼"?本次活动围绕人、技术和空间之间的互动展开。从观察当数据被用来更好地了解社会时可以实现什么,到使用虚拟平台作为收集人们数据的空间,本周末的活动将探讨公民参与城市建设的新方式。
New technologies are redefining the notion of citizenship. How can we interpret the "Eyes of the City" idea from this perspective? This event revolves around the interaction between people, technology and space. From observing what can be achieved when data is used to better understand society to using virtual platforms as spaces to collect people's input, this weekend explores new ways in which citizens can get involved in the making of the city.
活动流程
PROGRAM
1月11日,周六
Saturday, January 11
10:50 机构致欢迎辞
刘磊,深圳城市\建筑双年展组委会副主任
10,50 am Institutional welcome:
Liu Lei, Deputy Director, Shenzhen UABB
11:00-12:30
讲座:多孔而水平,未来的都市
Lecture: POROUS AND HORIZONTAL,
THE FUTURE OF THE METROPOLIS
主讲嘉宾:保拉·维加诺( 盐田分展场建筑策展)
Speaker: Paola VIGANÒ (Co-Curator of Yantian Sub-venue)
策展介绍:
爱兜·布鲁诺,都灵理工大学,"城市之眼"板块策展团队执行策展人
12:30 – 12:40
Curatorial Introduction
Edoardo Bruno, Politecnico di Torino, "Eyes of the City" curatorial team
( 周六 Saturday) 12:40-18:30
座谈会:软件基础设施
Symposium: SOFTWARE AS INFRASTRUCTURE
由E-Flux 建筑(尼克·阿克塞尔& 尼古拉斯·赫希)主办;
尼克·阿克塞尔主持
Curated by E-Flux Architecture (Nick Axel & Nikolaus Hirsch);
Moderated by Nick Axel
一直以来,城市依赖道路、下水道、电路等等基础设施得以正常运转,而今天,在城市生活的人很难不依赖拼车和送餐等等社交网络和分散服务软件,可以说,软件已经成为新的都市基础设施。今天的城市运行在软件上,而软件则在由电缆、数据中心和卫星组成的庞大网络上运行。本专题将着重讨论,面对这样的新型城市基础架构,设计师应当如何为城市设计?
From ridesharing and food delivery to social networks and decentralized services, software has become the new urban infrastructure. Software runs on sprawling networks of cables, data centers, and satellites, but the city runs on software. Then again, one could argue that the city has always run on software. "Program," after all, as a concept, encompasses not only downloadable software packages but also architectural plans and governmental policy.
今天的软件在城市和建筑方面具有哪些潜能?它的开发逻辑、部署逻辑和过去被视为想象、推测和投射的媒介的逻辑意味着什么?如今,城市的体验和性能不再由其物理结构而决定,而是由可变的、可下载的内容和不断更新的框架决定的,为这样的城市设计意味着什么?
What are the urban and architectural potentials latent within the software of today? What would it mean for its logics of development, deployment, and use to be treated as a medium for imagination, speculation, and projection? What does it mean to design for the city today whose experience and performance is determined less by its physical structure as it is by variably downloadable content and continuously updated frameworks?
主讲嘉宾: Speakers:
Huang Weiwen 黄伟文
露西娅·塔汉
Lucia TAHAN
弗雷德里克·赫尔伯格
Fredrik HELLBERG
玛丽·安·奥唐奈
Mary Ann O'DONNELL
大卫·班克斯
David BANKS
吴慧琳
Amelyn NG
安德鲁·维特
Andrew WITT
海伦·鲁廷
Helen RUNTING
安德烈斯·雅克
Andrés JAQUE
1月12日,周日
Sunday, January 12
10:30-12:30
圆桌会议:打造数字中国
Roundtable: REALTIME: MAKING DIGITAL CHINA
主讲嘉宾:克莱门特·雷诺,佛罗伦萨·比多,马克·拉珀鲁萨
Speakers: Clement RENAUD, Florence BIDEAU, Marc LAPERROUZA
实时:打造数字中国
实时是关于中国的数字化和城市基础设施、实践和想象空间的调查。
实时试图捕捉中国复杂多变的现实的步伐、规模和深度。
实时是一份来自设计、地理、建筑、人类学、经济学和艺术等多个领域的研究人员和从业者们收集的原始账户、分析、故事、文章、艺术作品、图片、地图、插图和其他材料的集合。
REALTIME: Making Digital China
REALTIME is an investigation about china's digital and urban infrastructure, practices and imaginary spaces.
REALTIME attempts to capture the pace, scale and depth of china's complex and changing reality.
REALTIME is a collection of original accounts, analyses, stories, articles, artworks, pictures, maps, illustrations, and materials collected by researchers and practitioners from various fields of design, geography, architecture, anthropology, economics, and art.
实时:当周遭发生快速、响亮和真实的变化时产生的感觉——不仅在中国,而且遍及全球
REALTIME (实时): THE FEELING THAT OCCURS WHEN CHANGES AROUND APPEAR VERY FAST, LOUD AND REAL—NOT ONLY WITHIN CHINA, BUT ACROSS THE ENTIRE WORLD.
13:30-15:30
圆桌会议:在线城市主义——数字乡村现在和未来
Roundtable: ONLINE URBANISM
主讲嘉宾:钟波涛,陈晓阳,许冰峰,李孜,刘志升
Speakers: Botao ZHONG, Xiaoyang CHEN, Bingfeng XU, Zi LI, Zhisheng LIU
在全球资本如瀑布一般倾泻入数字经济的当下,城市化的方式也已从现实空间延伸到了虚拟世界。现实与虚拟之间,现在傲立浪头的平台巨头如谷歌、脸书、亚马逊、阿里巴巴、腾讯与技术巨头华为、思科、IBM和西门子等,正在代替实业和传统房地产开发企业,布局未来城市,涉足城市化过程的方方面面,其关键是从数据与在线服务体系入手,构建一个线上线下无缝连接的参与与实时互动的新生活方式。
At the current moment when global capital is pouring into the digital economy as waterfalls, the approach of urbanization has also extended from the real space to the virtual world. Between reality and virtuality, the predominating platform giants such as Google, Facebook, Amazon, Alibaba, Tencent, along which the leading technology giants as Huawei, Cisco, IBM and Siemens are, substituting industrial and traditional real estate developers, making plans for future cities and getting involved in all aspects of the urbanization process. Starting with a data and online service system, the key point is to build a new lifestyle that participates in real-time interaction with seamless connection online and offline.
15:30-15:45
闭幕致辞
爱兜·布鲁诺,都灵理工大学,"城市之眼"板块策展团队执行策展人
Closing remarks
Edoardo Bruno, Politecnico di Torino, "Eyes of the City" curatorial team
VENUE:
深圳城市设计促进中心SHENZHEN DESIGN CENTER
深圳市福田区上梅林中康路8 号雕塑院A 座301 / Block A 302, Shenzhen Sculpture Academy, No.8 Zhongkang Rd, Shangmeilin, Futian District, Shenzhen
活动现场将提供中、英文同声传译服务
请您携带有效证件(身份证/护照)领取同传设备
simoultaneous translation English – Chinese and Chinese-English will be provided
Please bring your valid certificate (ID card / passport) for simultaneous interpreting equipment.