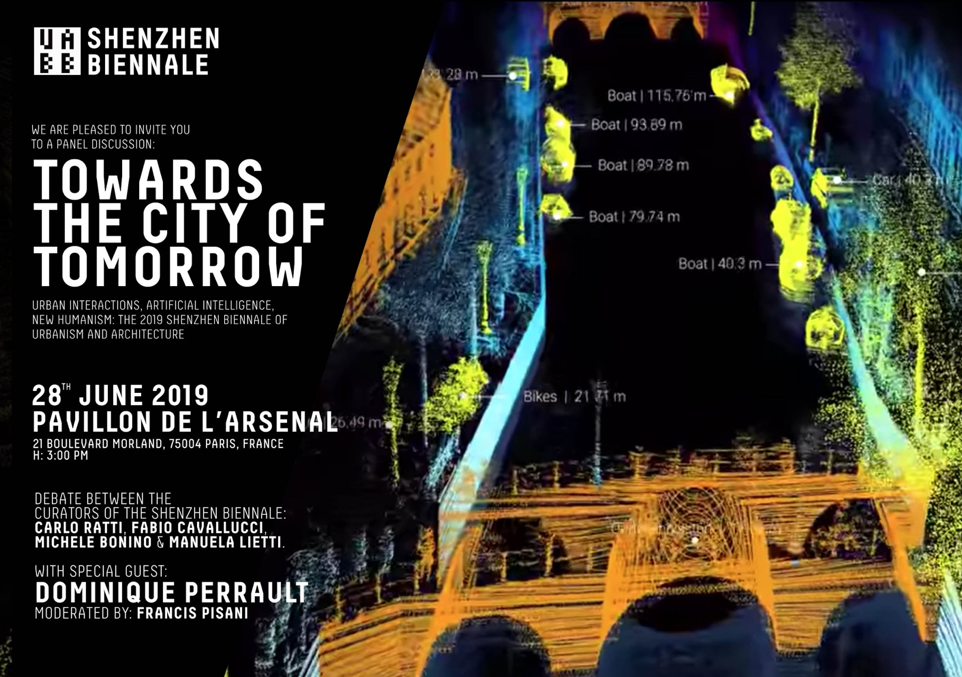 TOWARDS THE CITY OF TOMORROW
UABB Biennale – PARIS promotional event
Pavillon de l'Arsenal, Paris, France
The curators of the Shenzhen Biennale will discuss at the Pavillion de L'Arsenal on the topic "Towards the City of Tomorrow. Urban Interactions, Artificial Intelligence, New Humanism", presenting the contents for UABB 2019.
Panelists: Carlo Ratti, Michele Bonino (Eyes of the City), Fabio Cavallucci and Manuela Lietti (Ascending Cities).
We invited great architect Dominique Perrault, involved in our curatorial section "Eyes of the City", as a special speaker.
Moderator: Francis Pisani, French journalist and writer gives perspectives on innovation, creative cities, and smart citizens.
Abstract:
Today, our cities produce unprecedented amounts of data, which can be harnessed and transformed into responses from the citizens or the government. The convergence between digital information and the physical environment, bound by IoT networks, has enormous potential. Applications can be indeed manifold: from waste management, to energy, public health, civic participation, mobility… The panel aims to engage thought leaders in a strategic dialogue around how AI can shape the cities of tomorrow.