Olympic Experience Project
Building A of the Oxygen Factory Complex Big Air Venue
XXIV Olympic Winter Games Beijing 2022
The transformation of the Oxygen Factory, developed in collaboration with Tsinghua University, is part of the general recovery masterplan of Shougang, a former steel factory in the extreme west of Beijing, for the Big Air venue in view of the XXIV Olympic Winter Games of Beijing 2022. The project involved the whole Department of Architecture and Design of Politecnico di Torino for design, structural and plant engineering consultancies, within a multidisciplinary and shared process.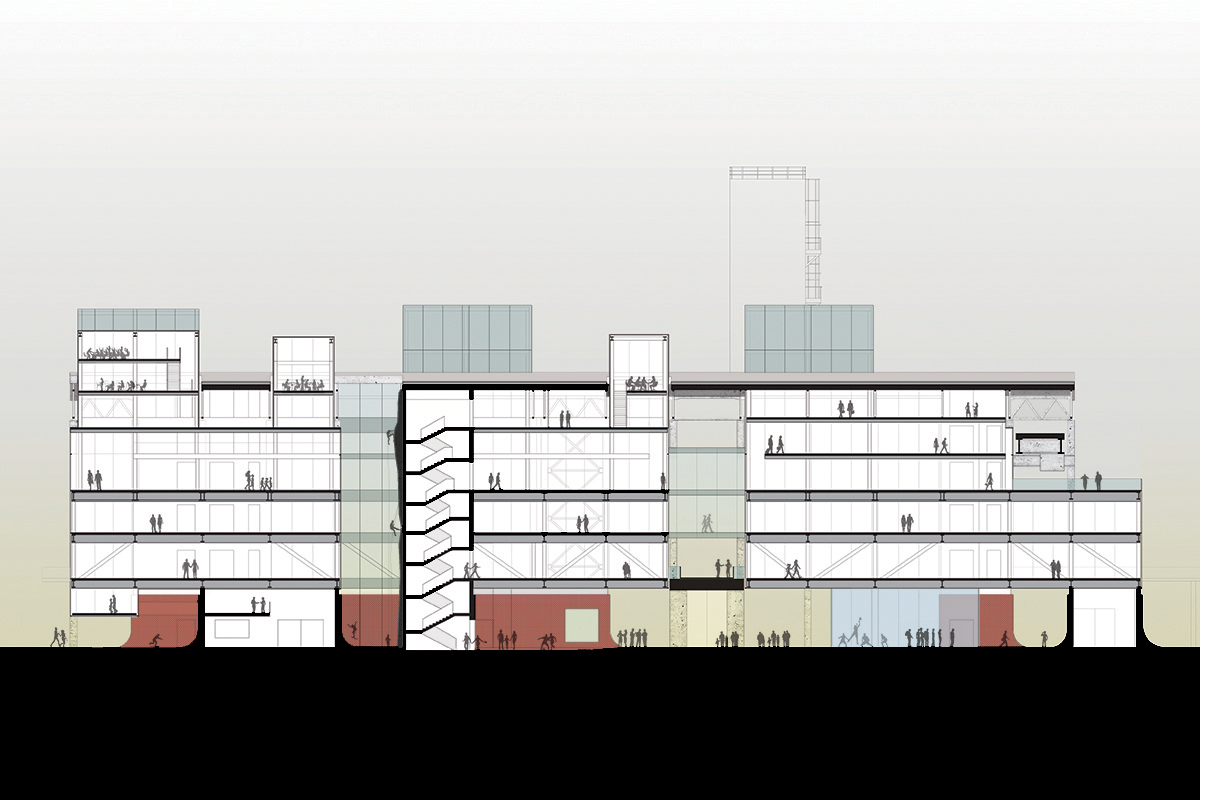 The project intended to open the original building to the public visiting the competition site; for this reason, the building has been shaped under two main considerations: passing from being an anonymous and closed volume into a public plaza, transforming itself into a sightseen point over Big Air Competitions.
The concrete columns with their regular rhythm, the mezzanine, the reticular beams of the roof and the tall ventilation towers have been preserved not as a separated industrial relic, but instead as portions able to influence the private/public circulation and distribution of functions.
Considering these strategies, the intervention searched to reply to a simple question: how to preserve the space and the image of the Oxygen Factory, while hosting a dense program of activities for the Olympic event and post-game use? The project dealt with the existing structure in three ways, with different densities to meet both requirements.
At the park level, spectators have been welcomed into the building in a covered, sizeable public space, which can be walked in every direction: an equipped playground, which introduced the public to the pleasure of physical movement, to the experience of active health, and to the spirit of sports competition.
Further up, starting from the current mezzanine of the factory, the dense program of offices, welcome-areas, and research centre has been housed into two large glass boxes, whose volumes floated above the playground, within the structural skeleton of the factory.
On the roof, some small club-houses emerged in the landscape, offering the guests an exclusive experience in their interiors and on the roof of the factory, looking towards the competition area and the view of the river and the mountains.
The final image of the glass volume surpassing the boundary of the former factory and floating over the ground floor has been the result of an essential structural research. The new vertical distribution has become the central supporting element of the entire building, leaving the ground spaces as much as possible free from visual barriers and therefore giving the possibility to be entitled as the first public plaza of the entire masterplan.
The project let the possibility to define participatory processes within the Department of Architecture and Design of Politecnico di Torino, calling into action its faculties in organizing multidisciplinary roundtables and workshops, aimed to set the preliminary guidelines and architectural solutions. The methodological relevance of this approach was not expected: it requested disciplines to systematically confront each other in the short term and make consistent decisions moved forward to the dedicated design team.
A project by
Politecnico di Torino / Department of Architecture and Design (DAD)
In collaboration with Tsinghua University Design Institute
Design/Research Team
ARCHITECTURAL DESIGN
Chief Architect: Michele Bonino
Project Architect: Edoardo Bruno
Design Team: Camilla Forina, Andrea Tinazzo, Alberto Bologna, Huishu Deng, Maria Paola Repellino – Politecnico di Torino, Department of Architecture and Design, China Room
STRUCTURAL DESIGN: Walter Ceretto – Politecnico di Torino, Department of Structural, Construction and Geotechnical Engineering
PLANT DESIGN: Enrico Fabrizio – Politecnico di Torino, Department of Energy
Design Board: Gustavo Ambrosini, Mauro Berta, Massimo Crotti, Davide Rolfo, Elena Vigliocco (rooftop); Pierre Alain Croset (playground); Simona Canepa, Alessandro Mazzotta (façades); Elena Vigliocco, Rossella Maspoli (existing structures treatment); Michela Barosio, Giovanni Durbiano, Mario Grosso, Roberta Ingaramo, Paolo Mellano, Marco Trisciuoglio, Manfredo di Robilant, Marco Vaudetti – Politecnico di Torino, Department of Architecture and Design