EYES OF THE CITY
Bi-City Shenzhen Hong Kong BIENNALE of Architecture\Urbanism 2019
Politecnico di Torino / China Room has been entitled as Academic Curator of the Bi-City Shenzhen Hong Kong Biennale of Architecture\Urbanism 2019 (UABB). Together with Carlo Ratti Associati and South-China University of Technology developed the exhibition "EYES OF THE CITY" opening a reflection between urban and architecture spaces and upcoming new technologies. T

he project is part of "URBAN INTERACTIONS", the topic raised by UABB for its 2019 edition, opened on 20th December until 8th March.
All around the world, the last two decades have witnessed an increasing penetration of digital technologies in the physical space – a phenomenon often described as the emergence of the Internet of Things. This ushered in a series of radical changes in how we conceive, design and live the city. More recently, with a particular prominence in China, technological advancements such as AI and facial recognition have been accelerating a process by which the built environment is becoming more and more able to sense people's needs in real time.
At the 2019 UABB, the Carlo Ratti, Politecnico di Torino and South China University of Technology, investigated how our relationship with the city might change, when buildings become able to respond to our presence. A scenario that opened new, untapped opportunities and challenges. To say it with Rich Gold's famous questions, asked in 1995: "How smart does your bed have to be, before you are afraid to go to sleep at night?"
2019 Bi-City Biennale considered Shenzhen's unique features – its geopolitical status between Hong Kong and the rest of the Pearl River Delta region, its rapid urbanization process, its central position as an innovation hub – as starting points to reimagine the relationship between new technologies and urban futures. The 2019 UABB will exploreed the new phenomena brought about by digital revolution that unfolded in parallel with Shenzhen's growth, reflecting on urbanism and architecture in ways beyond physical boundaries, discussing how people can be empowered to become the true subject of our digital-physical cities.
To further reinforce the cross-disciplinary spirit of the exhibition, the Organizing Committee of UABB also nominated two other chief curators who will operate in parallel to Carlo Ratti/South China-Torino Lab's team. Authoritative Chinese academician Meng Jianmin and Italian curator and art critic Fabio Cavallucci will work together on section "Ascending Cities2, focusing on the intersection between technology, art and science fiction.Co-curator of this team will be the Science and Human Imagination Center of the Southern University of Science and Technology, in the person of Wu Yan.
The 8th edition of the Urbanism\Architecture Bi-City Biennale has opened in Shenzhen, China, on 21st December 2019. "Eyes of the City" official website is available at www.eyesofthecity.net
Observing people's presence in physical space and deciphering their behaviors have always been critical actions to designers, planners and anyone else who has an interest in exploring how cities work. It was 1961 when Jane Jacobs, in her seminal book "The Death and Life of Great American Cities", coined a famous expression to convey this idea. According to Jacobs, "the natural proprietors" of a certain part of the metropolis – the people who live, work or spend a substantial amount of time there – become the "eyes on the street." Their collective, distributed, decentralized gaze becomes the prerequisite to establishing "a marvelous order for maintaining the safety of the streets and the freedom of the city."
Almost half a century later, we find ourselves at the inception of a new chapter in the relationship between the city and digital technologies, which calls for a reexamination of the old "eyes on the street" idea. In the next few years, thanks to the most recent advances in Artificial Intelligence, deep learning and imaging, we are about to reach an unprecedented scenario, the most radical development in the evolution of the Internet-of-Things: architectural space is acquiring the full ability to "see." Imagine that any room, street or shop in our city can recognize you, and autonomously respond to your presence. With Jacobs's "eyes on the street," it was people who looked at other people or the city and interpreted its mechanisms. In this new scenario, buildings and streets similarly acquire the ability to observe and react as urban life unfolds in front of them. After the "eyes on the street," we are now entering the era of the "Eyes of the City." What happens, then, to people and the urban landscape when the sensor-imbued city is able to gaze back?
What we are currently facing is an "utopia or oblivion" crossroads, to say it with the words of one of the most notable thinkers of the past century, Richard Buckminster Fuller. We believe that one of the fundamental duties of architects and designers today is to grapple with this momentous shift, and engage people in the process. "Eyes of the City" aims to experiment with these emerging scenarios to better comprehend them, deconstructing the potential uses of new technologies in order to make them accessible to everyone and inspire people to form an opinion. Using critical design as a tool, the exhibition seeks to create experiences that will encourage people to get involved in defining the ways in which new technologies will shape their cities in years to come. For this reason, it recognizes in Shenzhen's Futian high-speed railway station its natural home – a place where to reach a broad, diverse audience of intentional visitors and accidental passersby, and a space where, just like in most other liminal transportation hubs, the impact of an "Eyes of the City" scenario is likely going to be felt the most.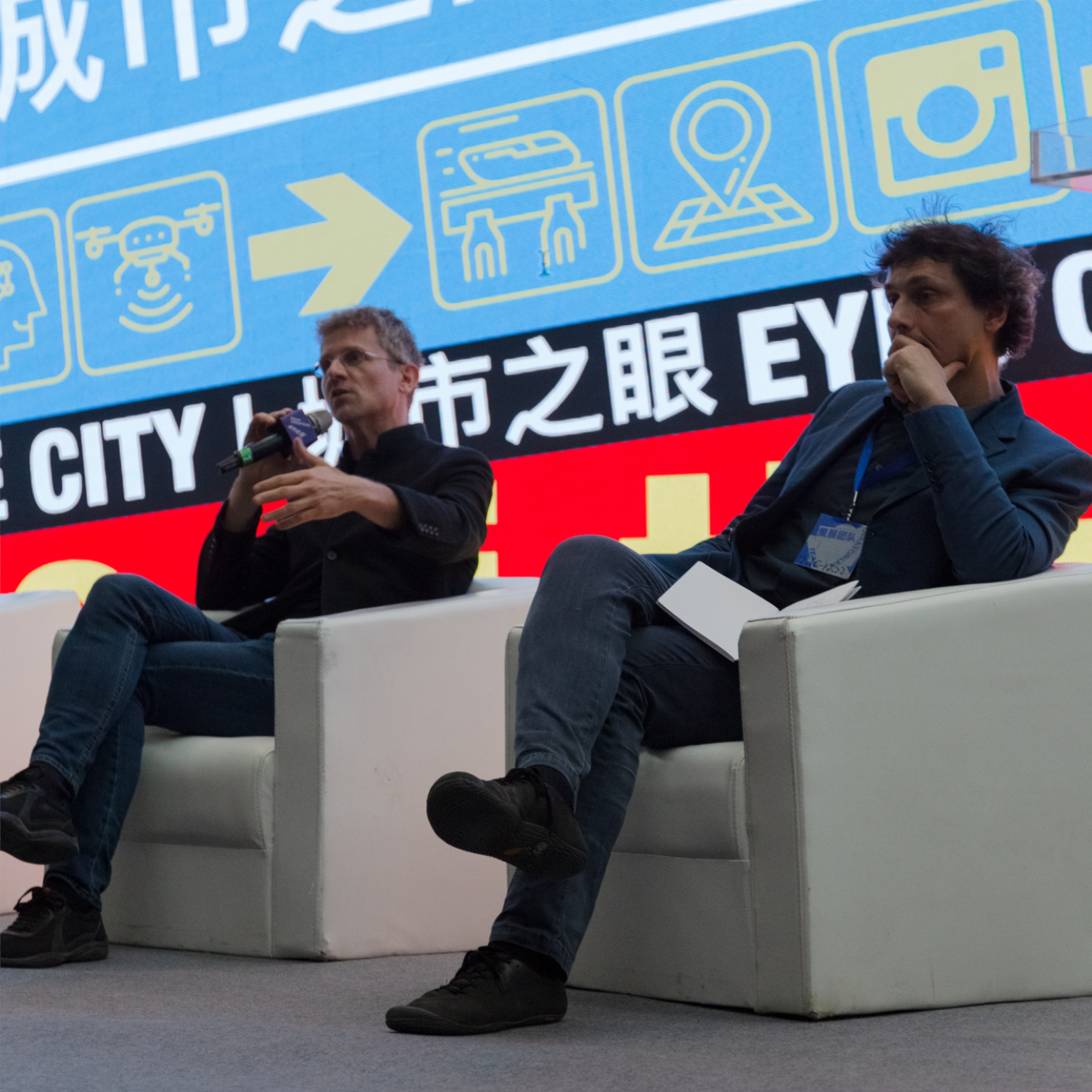 Credits: Samuele Pellecchia – Prospekt
The curators of the Eyes of the City section have pursued a method called "open curatorship." It consists of a flexible, discursive approach by which, during the course of approximately eight months, the main curatorial statement has been publicly challenged and ultimately enriched by the input of hundreds of participants.
The Foundational Contributors are the first pillar of the "open curatorship" process. They are a group of renowned scholars and practitioners who were invited to write a response to the "Eyes of the city" curatorial statement. Their contributions underlined the connections between "Eyes of the City" and a series of fundamental issues – surveillance, ecology, design methods, social engagement. All texts, video messages, and drawings can be read online on the Archdaily portal https://www.archdaily.com/tag/shenzhen-2019-bi-city-biennale
The second pillar of the "open curatorship" approach has been a triple open call – for research projects, design projects, and scientific papers. The call, which ran from April 1 to May 31, gained an extraordinary recognition, with almost 300 submissions from all around the world. About 50 research and design projects and 18 papers were finally selected.
The third consisted in developing the whole exhibition thorught a "local production" principle, in which all the installations have been constructed starting from the local creative industrial chain. Exhibitors have been asked to create blueprints to support the development process, meanwhile defining an open archive capable to diffuse DIY methodologies. A strategy aimed also to strongly reduce the carbon footprint of the entire exhibition, where overseas shipping has been completely avoid.
The "open curatorship" approach and its various steps are documented on the outside walls of the exhibition space within the Futian high-speed railway station – in a series of infographics developed by professor Paolo Ciuccarelli and its students at the Northeastern University's College of Arts, Media and Design in Boston.
Selected by the UABB organizing committee as the main venue for the "Eyes of the City" section, the Futian high-speed railway station might seem at first like a challenging location for a Biennale exhibition. It represents one of China's leading mobility hubs and it is part of one of the world's most extensive underground spaces, traversed by hundreds of thousands of people every week. Since September 2018, it is possible to travel southwards from Futian station to Hong Kong in about 15 minutes – in a journey that prefigures the impending fusion of the two cross-border cities. 
The exhibition reacts to this unusual setting by pursuing a design strategy that aims to attract an audience not necessarily accustomed – or even interested – in visiting a Biennale about urbanism and architecture. By adopting a zigzagging spatial layout devoid of clear gateways as well as by mimicking the flamboyant visual language of duty-free shops (developed by the Dutch graphic designer Mieke Gerritzen), the exhibition aims to expose station users to the ambiguity of "Eyes of the City" scenarios. The station becomes a space where visitors cannot escape art – and where functions and experiences get hybridized.
Ultimately, this unusual venue stands out as the natural home for the "Eyes of the City". As digital technology increasingly permeates our cities, railway stations are one of the public spaces that are likely to experience the strongest shift. For a long time, stations have been places where one could experience urban anonymity at its highest form. Already today, they are becoming examples of a built environment that is able to recognize and respond to us in real time. In stations as well as in airports, we can already observe what an "Eyes of the City" scenario might look like and start a critical reflection about it.
In this spirit, a specially-made technological system will permeate the space inside the Futian high-speed station. Visitors will be facially scanned upon accessing the exhibition through the two info points designed by MVRDV on opposite ends of the venue. The system will work in a transparent manner and camera locations will be highlighted throughout the space. Visitors who wish to opt out will wear a special mark on their face to bypass sensors and remain anonymous, signaling their stance to others.
Chief Curator:
Carlo Ratti
Academic Curator:
Politecnico di Torino – Michele Bonino 博明凯
South China University of Technology (SCUT) – Sun Yimin
(South China-Torino Lab)
Executive Curators:
Daniele Belleri (CRA-Carlo Ratti Associati)
Edoardo Bruno (Politecnico di Torino)
Xu Haohao (SCUT)
—
CURATORSHIP
Head Curator of Editorial and Events:
Valeria Federighi 
Head Curator of Exhibition and Graphic Design:
Claudia Mainardi 
Head Curator of Exhibition and On-site Coordination:
Monica Naso
Assistant Curators:
Erika Bettega, Camilla Forina, Xingxin He, Jiachen Lin, Xian Lu
—
DESIGN 
The exhibition venue inside the Futian station was designed by CRA-Carlo Ratti Associati and Politecnico di Torino
Creative Consultancy: 
Italo Rota
Exhibition Venue Design:
Andrea Cassi (Head of design)
with James Schrader, Alberto Benetti, Niccolò Centrone, Pietro Franceschini, Serena Giardina, Rui Guan, Stephanie Lee, Federico Riches, Ina Sefgjini, Alessandro Servalli, Chenyu Xu
Graphic Design and Wayfinding system:
Mieke Gerritzen
with Luigi Savio
Renderings by:
Gary di Silvio, Matteo Migliaccio, Pasquale Milieri, Gianluca Zimbardi
Executive Design
Jiang & Associates Design (J&A)
—
PRODUCTION & CONSTRUCTION 
Exhibition Production Manager:
Freddy Curiél (Lapis Bureau)
Venue Project Manager:
Liu Si
Venue Development
Silkroad Vision Technology Co. Ltd
Facial Recognition Platform:
Turingviz Technology (Shenzhen) Co. Ltd.
图灵视觉(深圳)科技有限公司
LED Screen System: 
Hisense TV
—
Curator of GBA Academy:
Adalberto Del Bo, Marco Bovati with Florencia Andreola, Maria Vittoria Cardinale, Davide Castoro, Lorenzo Ceccon, Daniele Villa
Press office:
Aurora Percannella (CRA)
Elena Foglia Franke (servizio CORE, Politecnico di Torino)
Special thanks to:
The Embassy of Italy in Beijing
The Consulate General of Italy in Guangzhou
The Department of Architecture and Design (DAD) at Politecnico di Torino
INTE – International Affairs Area and China Center, Politecnico di Torino
Thanks to:
Emma Greer, Francesco Carota, Luca Cianfriglia, Jenny Colasberna, Veronika Dzhioeva, Melanie Erspamer, Luca Giacolini, Marta Mancini, Xiao Tong 
Foundational Contributors*:
Alessandro Armando, Ole Bouman, Yung Ho Chang, Thomas Chung, Giovanni Durbiano, Maurizio Vittorio Ferraris, Jeanne Gang, Dong Gong, Vicente Guallart, Matthias Hank Haeusler, Sarah Mineko Ichioka, Liu Jian, Mitchell Joachim, Kees Kaan, Annette Kim, Brian Zhang Li, Geoff Manaugh, Manfredo Manfredini, Jürgen Mayer H., Hans-Ulrich Obrist, Dietmar Offenhuber, Ingrid Paoletti, François Penz, Antoine Picon, Luigi Prestinenza Puglisi, Daan Roosegaarde, Deyan Sudjic, Martijn de Waal, Albena Yaneva, Long Ying, J. Meejin Yoon, Liam Young, Philip F. Yuan